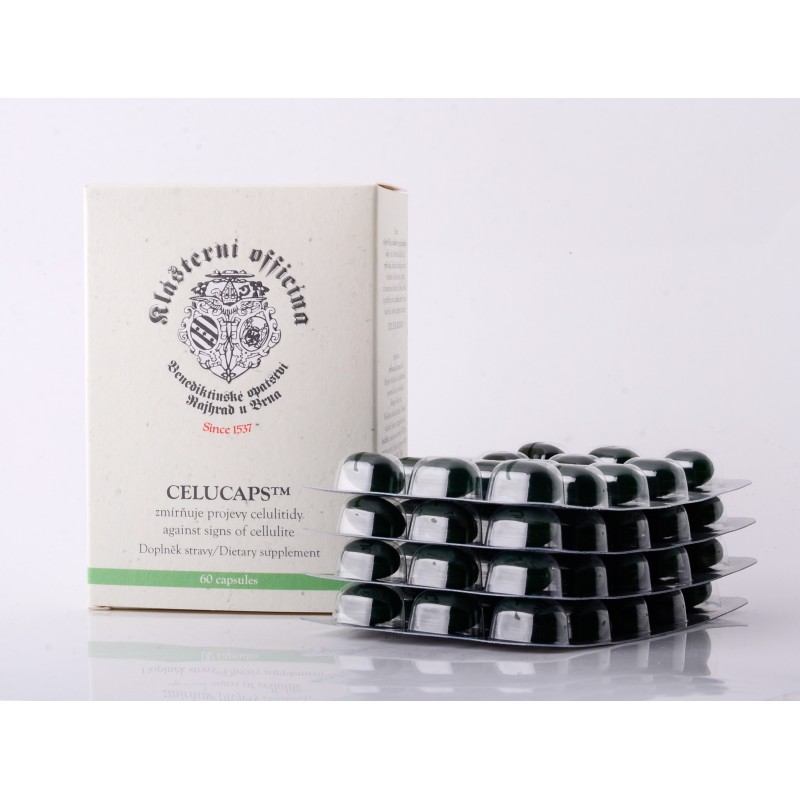  
Celucaps
60 capsules
against signs of cellulite
Celucaps is a dietary supplement containing plant essential oils and extracts with ability to fight the causes and signs of cellulite.
Active ingredients: fish, borage oil, freshwater weed, ginkgo biloba, melilot and champignons extracts, chlorella.
Recommended daily dose: 2 capsules. Take with food.
INCI: Glycine Soja Oil, Arachis Hypogaea Oil, Borago Officinalis Oil, Cod Liver Oil, Fucus Vesiculosus, Ginkgo Biloba Extr., Melilotus Officinalis, Chlorella Vulgaris, Agaricus Campestris Extr., Lecithin, Trifolium Pratense Extr., Gelatin, Glycerol, Sorbitol, Colours: E171, E133, E110, E104 Allergens: marked bold.
Not suitable for children and pregnant women.
Contains iodine (2 capsules contains 21,4µq; DRD for adult is 200 µq)
Contains Ginkgo Biloba Extract and raw materials.
Is not a substitute for a varied diet.